Choreographer currently based in Aarhus and working as artistic director of newly founded MeerKat Dance Theatre.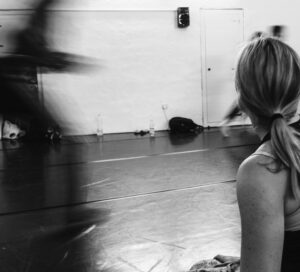 Marie was born in 1989 and began performing as a dancer for various theatre companies in Denmark in her early teens. She started her actor training in Denmark and received a diploma in acting from Oure School of Performing Arts (DK). She continued her training after moving to Malta in 2011 to finish her BA in Literature and Theatre Studies.
She completed her MA in Physical Theatre at St. Mary's University in London in 2013 where she also co-founded Lost Goose Theatre Company (UK), where she worked as actor and director. Marie returned to Malta to obtain a degree in dance at University of Malta.
Her performances range from standup comedy to Lorca's "Blood Wedding" at Teatru Manoel (MT) and Shakespeare at the Rose Theatre (UK). She is an actress at Dream Stuff Theatre (DK), a director and founder of Cirque du Suitcase (DK), a director and co-founder of Lost Goose Theatre Company (UK) and artistic director and founder of Masquerade Physical Theatre Company (Malta).
2014 – 2017
BA Dance Studies, University of Malta During the Ba, Marie focused on feminism and theatricality in dance. She choreographed pieces based on animal studies; Murder (2014), and Misogynist Meerkat (2017). She choreographed pieces like Little Match Girl (2015) for the USPA campus festival and Fairybomb (2017) for Zfin Malta.
2014
MA Physical Theatre (International Ensemble), St. Mary's University, (UK)
During her masters Marie studied Lecoq inspired work, devising techniques, Feldenkrais, Clowning and took workshops with members of Complicité and NIE.
2012
BA Theatre Studies & Comparative Literature, University of Southern Denmark During her first degree Marie focused on the structure of fairytales, which went on to feature later on in her choreographing and directing techniques.
ACADEMIC RESEARCH
2016-2017 Dissertation: Oppression, Appropriation and Agency in the work of Josephine Baker
2011 Dissertation: The Structure of Fairytales